Please show your support of Waihekepedia by adding a link to us from your web site. Waihekepedia T Shirts now available at the Ostend Market
Sandbox
Jump to navigation
Jump to search
Please use this page to have a play around with formatting and to see how it is done
<flashmp3>http://waihekepedia.com/mediawiki/images/d/db/Paper.mp3</flashmp3>

Heading 1
This is not a heading
Heading 2
just italic
Heading 3
just bold
Heading 4
plain text
=Heading 5
'just bold2'
==
bullet 1000
bullet 2
bullet 3
number 1
number 2
number 3000
Testing Headers
HELLO WORLD
Then some more
how are you
Then some more
Did Hitler Really Commit Suicide?
Headline text
Yes, he did But it won't last
---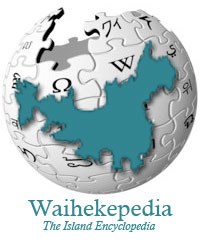 Format Test
Waiheke Montessori Centre
Montessori education was first brought to Waiheke in 1996 by Lee A Elliott and Kim Ngawhika. Waiheke Montessori Center first opened their doors to the public at the beginning of 1997. The centre provided education, based on Dr. Maria Montessori's method, up until 2007. Although the centre never received a licensed status, legally existing as a playgroup and homeschooling group, the 'grassroots' model proved popular with a large number of families. The Centre existed in a number of locations, once occupying Hekerua Lodge, and needed to continually had to adapt to the needs of the enrolled body. Without funding, the Centre relied heavily on parental contributions.
==
Попробуем потестить... Отлично! :)</nowiki>