Please show your support of Waihekepedia by adding a link to us from your web site. Waihekepedia T Shirts now available at the Ostend Market
CAPOW
Jump to navigation
Jump to search
The Community and People of Waiheke (CAPOW) is an organisation formed on 03-03-03 specifically to contest the Proposed Private Plan Change 38, a proposed change to the Hauraki Gulf Islands District Plan, that would have altered planning rules at Matiatia, Waiheke's gateway bay to enable development by its owner Waitemata Infrastructure Ltd (WIL).
At the time 5,000 m2 of wharf related and visitor faciity development was permitted on the land, but WIL argued that due to a prior change of wording during a "clean-up" district plan revision, (changing a standard from "GFA" to "GDA" [gross Floor area to gross Dwelling area]) while the plan limited dwelling development to 5,000 m2, it permitted a considerably larger (but unspecified) non-dwelling area, which in a wharf zone would mean freight sheds.
Remarkably, they got the Council planning department under manager John Duthie to agree. The planning department drew a map showing dozens of one, two and three storey buildings (presumably hotels and freight sheds) placed side by side to calculate the maximum that could be squeezed in under the rules. To do this, they placed these buildings on wetlands, on streams and other unusual places.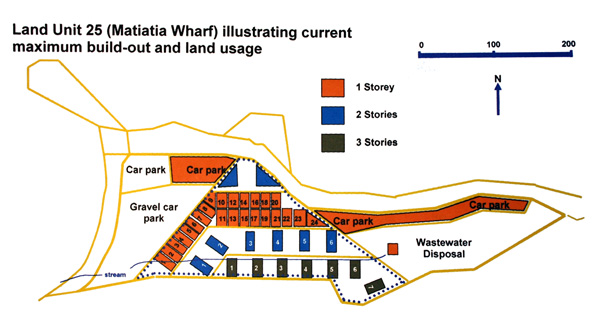 The council planner first calculated 22,000 m2 was permitted, and later upped it to 23,000 m2. WIL asked for 29,300 m2, but this was seen as an opening gambit, as it was difficult to figure out where they could realistically put that on about 3 hectares of buildable land. Thus, they had positioned the argument that they were not asking for more development than the plan allowed, but just wanted to change it to "mixed use" activities. When the question finally got to court, the judge not only threw out the GDA becoming GDA argument, but severely rebuked both WIL and Council, hitting them with $18,000 in costs that they had to pay to CAPOW. By the time the costs were assessed, WIL was no longer owned by its three investors, but the Council. Since CAPOW was made up of ratepayers, and the costs paid out of collected rates, in the end, ratepayers paid themselves, and no one was held accountable.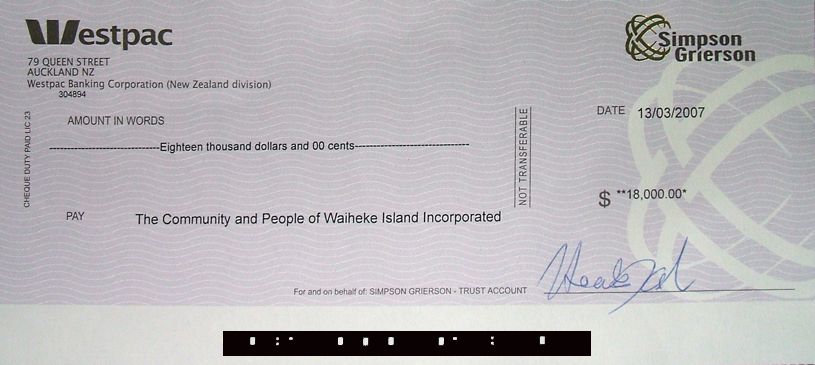 CAPOW led a community-based fight against the plan change, which proposed a mix of residential apartments (referred to by opponents as Hollow Homes), a boutique hotel, a conference centre and a host of upscale activities relating to weddings, parties, and other amusements in what was a wharf zone. CAPOW represented over fifty 271a Parties (people who had made submissions in opposition and then petitioned the court to become a party to the case). CAPOW hired environment lawyer Richard Brabbant and experts Dennis Scott and Brian Putt to give testimony before the court, along with lay witness Gordon Hodson, who had been a planning commissioner when the original rules for Matiatia had been adopted in the 1980's. Gordon Hodson headed CAPOW's Law Committee that managed the court case and was later declared a "Living Legend" by the head of the same organisation (Auckland City Council) that he had so effectively opposed in court.
CAPOW argued the scale and scope of WIL's proposed plan change was inappropriate for the size and character of the land in question. The judge accepted many of CAPOW's arguments, and in the end determined that 10,000 m2 of mixed use activities was an appropriate maximum permitted limit.
While this was going on, and unknown to CAPOW or any of its directors, the mayor of Auckland, Dick Hubbard, was meeting with WIL's owners, most notably Bill Bernie and Steve Norrie, to negotiate a purchase of WIL's stock and asset of Matiatia. When the court issued its interum decision setting the cap at 10,000 m2, negotiations reportedly moved forward and on 13 July 2005, Auckland City Council announced it would purchase WIL as a company for $12.5 million, which effectively became the purchase price of the land. In doing so, it eliminated a likely lawsuit WIL may have brought against Council as WIL would have had a strong claim that Council made errors which reduced the value of WIL's investment. It eliminated the problems of Council discharging treated waste water from the Owhanake treatment plant into WIL's wetlands and it resolved, or at least centralised, the parking matters on WIL's land.
The mayor and the councillor for the Hauraki Gulf, Faye Storer, sought to secure a unanimous vote for this unbudgeted purchase, but the cost of this was the minority party, Citizens and Ratepayers insisting that carpark charges be levied on what previously was a free carpark, secured by Waiheke County Council prior to amalgamation. This proved to be an asute political ploy as the heroic accolades for taking Matiatia out of investor hands rapidly turned to Waiheke outrage. CAPOW stayed out of this row, as it had stayed out of the purchase matter. It continued to focus on arguing in court over wording of the revised plan for Matiatia, and continued to focus on raising the money to pay the very expensive professionals on the case. In the end, it cost approximately $160,000 and when the court costs were paid by Auckland City Council, all debts were cleared. Had the citizen volunteer time been included in the cost of the case, at normal commercial rates for their levels of expertise, the costs would have been in the millions of dollars.
By the time the costs were finally paid, and the court's ruling made final, the CAPOW directors were exhausted. At the next AGM in June 2007, a new and very different slate of nominees was put forward. Waiheke Island has a population rich in talent, many of whom have international reputations, but keep a low profile at home. Some of these people, whose skills were deemed helpful for the next phase of the incorporated society were asked to stand for election. All agreed and were duly elected.
The new directors agreed while their charter allows a broad portfolio, their mandate focuses primarily on Matiatia. What should happen with it? Under the new rules, it equally can function as a party place or a place of learning. The new board is working on those questions, as well as focusing on maintaining its primary function as a wharf zone. The prior WIL zone would have provided very little commuter parking. The thousand plus daily commuters form the economic foundation of the island. While its image is of tourism, vineyards and real estate, it is primarily the income of the commuters that keeps the island's shops and services solvent.
People have asked, what was the fight really about? As goes Matiatia, so goes Waiheke, is a slogan CAPOW uses. There is strong pressure from the mainland to transform Waiheke into a party place, a place of hollow homes (second homes that do not function like the bach of earlier times, but a place locked up when not occupied by its owners during prime season). Hollow home syndrome has been seen to devastate local economies in prime parts of the world. When hollow home syndrome hits, the community loses its full time citizens. Those citizens keep local businesses going during the off season; they volunteer for the essential community services, and maintain the social fabric. When they sell to a part-time buyer, the economy and the social fabric of the community is damaged, or it collapses entirely, leaving a skeleton community of security and maintenance contractors, builders and real estate agents. Matiatia was seen as the colonial beachhead for hollow homes. As a party place, it would aggravate the boom-bust seasonal cycles. Thus, the community deemed it important to make this a major contest.
The remarkable characteristic of this opposition was its broad socio-economic base. Most of the 1,500 members of the society came from the rank and file of Waiheke, the ordinary folk who make up the bulk of the island's population. But a substantial amount of the money raised came from Waiheke's wealthy residents, including a number of people who mingled socially with WIL's directors, and did not hesitate to tell them they were opposed. The premier fund raising event, Love Matiatia, held in a private home in Church Bay saw both those constituent groups come together, and many commented that the traditional divisions between those two socio-economic classes melted away that evening. All were here because they loved the island, and all were prepared to take a common stand in its defense, putting forward whatever resources they had at their command.
In the end, that message may prove to have been more important than winning in court.
CAPOW has over 1500 adult members and is an incorporated society.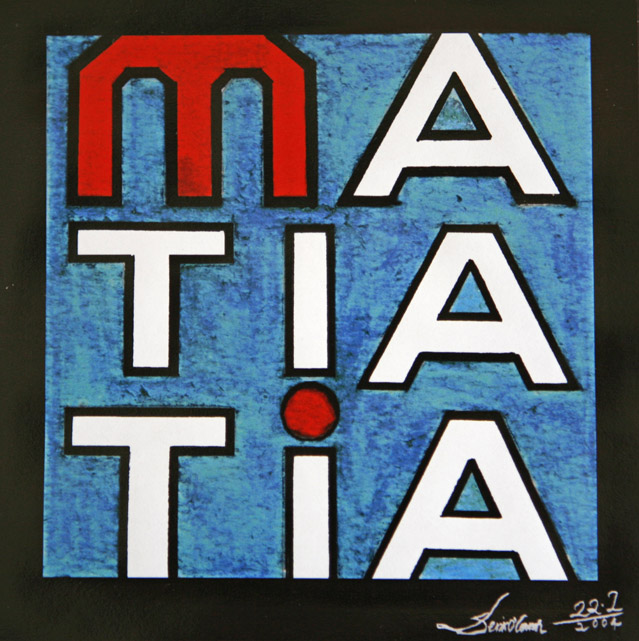 ,

On 22 October 2008, at the Annual General Meeting, the members voted a formal end to the Matiatia matter regarding Plan Change 38, thanked the 2000 plus supporters and some key leaders, and charted a plan for CAPOW's future. It was resolved that Capow will become a "Vigilant" society, in which it seeks to renew its membership not to take on any particular new issue, but to be placed in legal readiness to instantly respond if an issue arises where the community needs to come together and speak with one voice.