Please show your support of Waihekepedia by adding a link to us from your web site. Waihekepedia T Shirts now available at the Ostend Market
Earth Cinema
Jump to navigation
Jump to search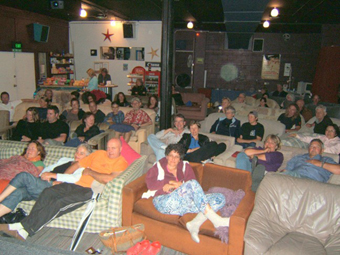 Waiheke Earth Cinema Circle (an offshoot of Spiritual Cinema Circle) is a group of people who get together for an offering of films from all over the world that explore the natural world — and fundraise for Island causes at the same time.
Earth Cinema evenings are held on the second Wednesday of every even month at Waiheke Community Cinema and are sponsored by Waiheke Wellness and the Cinema.

Entry is by donation ($10 suggested) or by koha, and proceeds go to a different community group every month. Screenings are restricted to Cinema Circle members, and you can join at the door (annual sub of $2).
Films for June (on the 9th) are:
7:30 The Great Year is a most unusual and stimulating work of art which explores the cosmic cycles spoken of by ancients from the Vedic scholars to the Mayans. In the distant past, it was believed that the movement of the stars guided the rise and fall of human civilization. How much did the ancients really know? You'll be enthralled by its vision and the sense of participating in something that's much, much larger than ourselves. Narrated by James Earl Jones. [46m]
8:20 The Mystery Of Chaco Canyon: Who were the ancient people who lived in this place we now call Chaco Canyon in the heart of the Southwestern United States? Why did they create such enormous and foreboding fortresses, capable of housing thousands of people, when new evidence proves that only a few hundred people ever actually lived there? Robert Redford narrates an intriguing journey through this land, exploring the archeological, astronomical and spiritual remains of a truly mysterious people. (55 min)
Proceeds will go to Te Atawhai Whenua.
You can view the online programme here.