Please show your support of Waihekepedia by adding a link to us from your web site. Waihekepedia T Shirts now available at the Ostend Market
Spiritual Cinema
Jump to navigation
Jump to search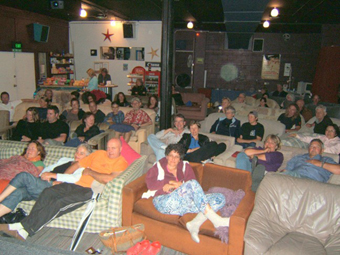 Waiheke Spiritual Cinema Circle is a group of people who get together every month for an offering of films from all over the world that explore the questions of who we are, why we're here and where we're going with a focus on inspiring, enthusing and entertaining you — and fundraising for Island causes at the same time.

Spiritual Cinema evenings are held on the last Wednesday of each month at Waiheke Community Cinema, starting at 7:30pm, and are sponsored by Waiheke Wellness, Auckland City and the Cinema.

Entry is by donation ($10 suggested) or by koha, and proceeds go to a different community group every month.

Screenings are restricted to Cinema Circle members: you can join at the door (annual sub of $2).
Films for April (on We28Apr):
7:30: The Wind Fisherman: Meet the hero of Gust Town, the windiest place on Earth. Just like his father and generations before him, the Wind Fisherman spends his day "fishing" for items blown away and returning them to their owners. Though fishing may be in his blood, is it in his heart? And will curiosity sweep him away? [12m]
7:42: Dance to the Offbeat: After being humiliated in a hip-hop dance class, a young African-American woman discovers the world of rhythm-less dance: dancing with no rhythm and no beat. Inspired, she enters a "Rhythmless Dancing" competition, much to the dismay of her family. This comedy offers a lighthearted look at racial stereotypes. [14m]
7:56: Earano: In this comic twist on the classic Cyrano de Bergerac tale, a shy, big-eared tutor named Earl longs for a romance with the lovely librarian Roxie. But the arrival of a hunky janitor puts a kink in Earl's plans and sets into motion a sweet story of unrequited love. [13m]
8:15: Mythic Journeys: "Who am I?" "What is my purpose?" "Why am I here?" The answers are in myths that have been passed down from generation to generation around the world. They are the reservoir of human wisdom — the stories of life — and we are writing our own mythology as we live each day. This extraordinary multi-layered film features a myth told through stop-motion animation with puppets designed by internationally acclaimed artists and voiced by three iconic actors, Tim Curry, Mark Hamill and Lance Henriksen. Interwoven into the myth are inspiring interviews with Dr Deepak Chopra, Reverend Michael Beckwith, Dr Jean Shinoda Bolen and other luminaries. [90m]

This month's Spiritual Cinema proceeds will go to Waiheke Forever--the UNESCO Biosphere Reserve Project.

For the month's programme, click here.

See also the Earth Cinema Circle page.