Please show your support of Waihekepedia by adding a link to us from your web site. Waihekepedia T Shirts now available at the Ostend Market
Waiheke Radio
Jump to navigation
Jump to search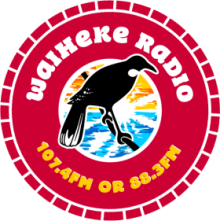 The Waiheke Community Radio Trust has established Waiheke Radio as a not-for-profit, community radio service for Waiheke Island. This service provides radio programming that reflects the unique character and needs of the Waiheke community. In addition the service offers facilities, advice, training and technical support for Waiheke people to make and broadcast their own radio programmes.
The Trust has been granted a month-by-month community lease on a space in Artworks, the old Beach Radio site, and has made numerous modifications to that space to serve the community with a fully functional radio station.
Waiheke Radio broadcasts on Low Power FM on 107.4 from Oneroa to Surfdale, and 88.3 from Surdale to Onetangi.
For more information see: http://www.waihekeradio.org.nz
---
If you are interested in participating in the development and continued running of Waiheke Radio please see our Expression of Interest Form . The form can either be filled out online or printed out and delivered to P.O.Box 28, Oneroa.
---
Blog
http://www.waihekeradio.org.nz <rss>http://www.waihekeradio.org.nz/rss.xml%7Ccharset=UTF-8%7Cshort%7Cdate%7Cmax=5</rss>
Podcasts
<rss>http://www.waihekeradio.org.nz/podcasts/feed%7Cshort%7Cdate%7Cmax=7</rss>
News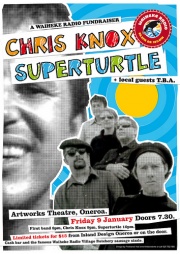 We're very pleased to be able to announce a very special fundraising event.
Waiheke Radio presents the one and only, Chris Knox at Artworks Theatre, Friday 9th Jan along with Superturtle and a local act still to be announced.
Tickets are limited, so get in quick - $15 at sale from Island Design in Oneroa from Jan 1st or on the door.
Doors 7.30pm, First band 8pm, Chris Knox 9pm, Superturtle 10pm.
Licensed bar and the famous Waiheke Radio Village Butchery sausage sizzle.
Proceeds will support Waiheke Radio.
Links
Del.icio.us tag "waihekeradio"